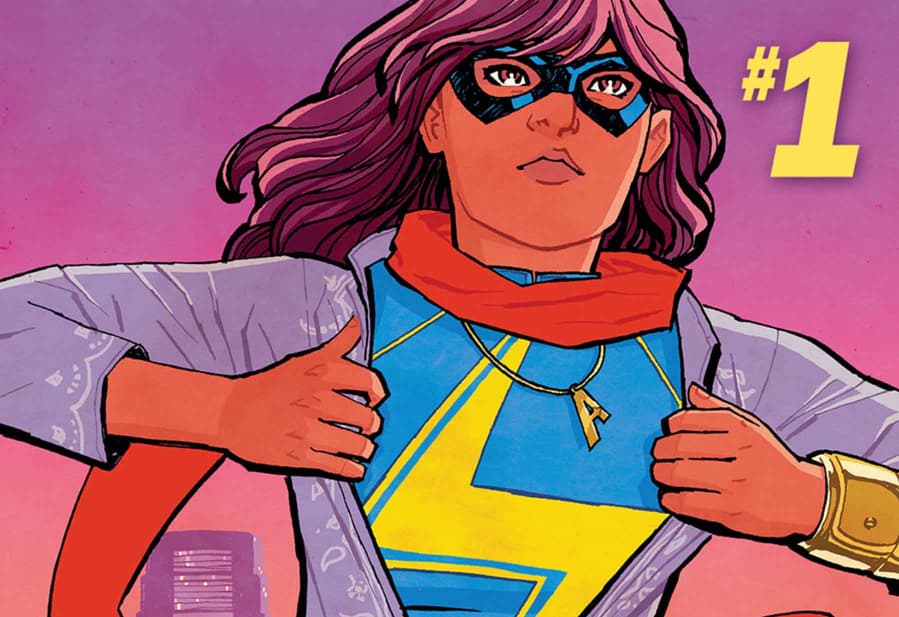 "Kamala Khan aka Ms. Marvel is moving on to her next phase — along with her most established writer and co-creator G. Willow Wilson. This week, it was announced that Wilson will pass the torch to Saladin Ahmed, who will begin his run on THE MAGNIFICENT MS. MARVEL next year.
Today, Wilson bids a fond farewell to the shapeshifting hero of Jersey City — and beyond.
Being part of the genesis of Kamala Khan has been one of the greatest honors of my life. From my puzzlement during that first telephone conversation with Sana in 2012—I was pregnant, frazzled from a long book tour, and in disbelief (You want to launch a new character? In this market?)—to my stunned amazement when the first issue went into its seventh printing, to my glee when Sana handed the first trade paperback to the President of the United States, this journey has been pure joy.
Sana and I initially had very modest expectations for this book. Our goal was to get to ten issues. It was going to be a fun side project—a young adult Muslim Super Hero! At Marvel!—that would have the lifespan of fun side projects. I budgeted a year for it. But by the time the first trade paperback hit the New York Times Graphic Books bestseller list, I realized Kamala was quickly becoming the center of my life…"
https://www.marvel.com/articles/comics/farewell-to-ms-marvel-an-open-letter-from-g-willow-wilson